LondonEX Review: Reasons That Cryptics.CC Is a Scam
LondonEX Review, together with a wide range of available financial instruments. Despite the appealing graphics, their website lacks fundamental functionality and is largely anonymous and unregulated; it is not even possible to open an account with them. 
To add to this the scam broker is also based in Saint Vincent and the Grenadines, an offshore scam haven that is home to tons of similar investment scams. 
To summarize, investing with this brokerage is a waste of both time and money. However, if you are still unsure, read the whole LondonEX review, which is provided below:
Additionally, we strongly advise you to avoid the fraudulent brokers Brokeragea, Dcmgroup, and CDG Global.
| | |
| --- | --- |
| Leverage | 1:1000 |
| Regulation | Not regulated  |
| Headquarters | Saint Vincent and the Grenadines  |
| Minimum Deposit | N/A |
| Review Rating | 1/5 |
| Platforms | MetaTrader 5/ Web trader |
| Spread | 0.1/1.5 |
LondonEX Regulation and Fund Security
Nowhere on the website does LondonEX expressly state where it is headquartered or licensed? The broker's Terms only briefly address St. Vincent and the Grenadines (SVG) law, yet that is sufficient to classify the broker as unregulated. 
SVG is an offshore jurisdiction infamous for having no regulation at all over its forex markets, which has drawn fraudulent brokers there.
The worst thing you could do is put your money with an unreliable, anonymous broker like LondonEX.
This is because there is nothing stopping this broker from breaking all of the rules and regulations that other legitimate brokers have to follow. When selecting a broker make sure that they are regulated by at least one tier-one regulatory body like ASIC or CySEC.
What Trading Platforms Are Available?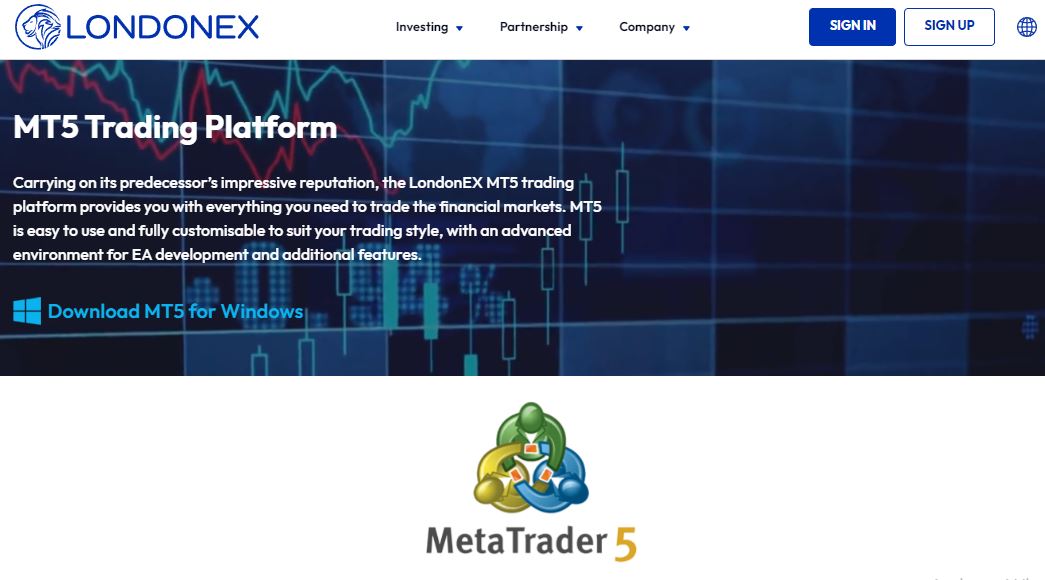 MetaTrader 5, one of the most well-liked and well-used trading platforms, is accessible through LondonEX or at least this is what they say. However, since we were unable to register an account, we were unable to try this broker's platform to see what they actually offer.
Lots of scam brokers in offshore locations tend to make claims like this in order to bolster their claims to legitimacy; however, this is often a lie. What ends up happening is the broker just offers a poorly built web trader that is not even close to the capabilities of MetaTrader 5. 
The platform that a  brokerage offers its users is a very important part of the trading experience as the tools and features are what traders rely on in order to make the best decisions possible. 
LondonEX Offers Bonuses 
This scam broker, like most others, offers ridiculous bonuses in order to attract people to make a deposit. This is all part of their get-rich-quick scheme sales pitch. In the case of the LondonEX scam, this comes in the form of the "PowerUp" bonus. 
This broker has a whole page dedicated to this bonus scheme and throughout the few paragraphs it's hard to tell exactly what this bonus is and who meets the requirements. 
In one paragraph they claim that the power bonus gives you 50% of what you deposit on top of your deposit, in another, they claim that the PowerUp triples your investment. This of course would put any honest broker out of business but scam brokers, it just helps them incentivize their victims into making huge deposits.
LondonEX Account Types Available
This broker features 5 different account types with nonsensical names that really don't mean anything. The account types made available by this scam broker are as follows: 
Raw 
Standard 
Fixed 
Vip 
Crypto
| | | | | | | | |
| --- | --- | --- | --- | --- | --- | --- | --- |
| Broker | LondonEX | FXTM | OctaFX | FPMarkets | XM Broker | HFM | FBS Broker |
| Minimum Deposit | N/A | $10 | $100 | $100 | $5 | $5 | $100 |
The only difference between the account types is the fact that there is a 10-dollar commission for the Raw account and there is a significant difference in the spread available to each account type. 
The spread ranges from 0.0 pips for the Raw account to 1.5 pips for the Fixed account type. Of course, this broker does not mention what the minimum deposit for each account type is. They do however have a diagram that again points out the ridiculous "bonus" that they offer.
LondonEX Deposit and Withdrawal 
This scam broker is yet another in a long line of fraudulent investment firms that say that they accept a variety of legitimate payment methods such as wire transfers, credit cards, and a number of e-wallets. However, this is not something that we could verify due to it being impossible to create an account with them. 
When choosing a broker, always make sure that they accept reversible and legitimate payment methods as opposed to payments made in crypto. 
Fraudulent investment firms will often promise that they offer legitimate payment methods while in reality pushing their prospective clients towards making a payment in cryptocurrency. 
How Does the Scam Work?
Social media is frequently used by investment scammers working in offshore areas like the SVG to lure victims by promising them quick and simple riches in return for their contact details.
Once they have this contact info, they continue to communicate with the targets until they make a deposit. Because bitcoin deposits are anonymous, untraceable, and immune to chargebacks, these scammers frequently push for this type of payment.
When they face a malfunctioning trading platform or discover that the minimum withdrawal amount is too high for them to retrieve their funds, the victims eventually come to the realization that they have been scammed.
Recommended Forex Brokers
We advise taking a look at the options listed below if you're searching for a trustworthy brokerage. These six investment firms have undergone the strictest regulation, ensuring the safety of your money. 
Additionally, these brokers are appropriate for traders of all experience levels due to their modest minimum deposit requirements, which range from $5 to $100.
| | | | | |
| --- | --- | --- | --- | --- |
| Broker | Country, | Rating | Min. Deposit | Website |
| FXTM Broker | Cyprus, UK, Mauritius | 4.5 | $10 | Forextime.Com |
| OctaFX Broker | Cyprus, SVG | 4.4 | $100 | OctaFX.Com |
| FP Markets Broker | Australia, Cyprus | 4.7 | $100 | FpMarkets.Com |
| XM Broker | Cyprus, Belize, Australia | 4.7 | $5 | XM.Com |
| HFM HF Markets Broker | Cyprus, UK, South Africa, UAE, Kenya | 4.3 | $5 | HFM.Com |
| FBS Broker | Cyprus, Belize, Marshall Islands | 4.85 | $100 | FBS.Com |
LondonEX Summary
As far as scam brokers are concerned this one is pretty much right on the mark in terms of following the fraud blueprint. 
Firstly they are based in an offshore location far away from any legitimate form of regulation as Saint Vincent and the Grenadines do not have a financial authority that provides oversight for forex brokers. This makes this location quite popular for scam artists. 
Secondly, the broker is not transparent in the least. Their website does not list pretty much any of the information that is necessary for traders to be able to choose them with any degree of confidence. This also applies to the fact that they do not outright say that they are based in SVG but rather they just mention that they abide by SVG laws. 
All in all, there are loads of trustworthy brokers that provide healthy trading environments and proper trading platforms at various entry points in terms of minimum deposits that you can choose from. So do not fall victim to an obvious financial scam. 
FAQs About LondonEX Broker
What Is The Minimum Deposit at LondonEX?

The LondonEX scam does not list a minimum required deposit.
Are Demo Accounts Available at LondonEX?

This broker does not provide its users with a demo account.
What Are The Funding Methods at LondonEX?

LondonEX claims that they provide credit cards, wire transfers, and a number of e-wallets as funding methods however we could not verify this.