Dukascopy Review – Learn More about Dukascopy.Com
Switzerland bank – Dukascopy Group is a heavily regulated financial services provider, operating since 1998. Dukascopy, their online broker brand has been successfully conducting a brokerage business since 2004.
First licensed by the top-tier Swiss regulator, FINMA, Dukascopy has also obtained licenses in other countries where they have offices. These include Japan, Dubai, and Latvia. 
Favorable trading conditions, the latest technological advances in online trading and low fees categorize Dukascopy as trustworthy and very popular among traders. 
A rich palette of services adjusted to all and every experience level organizes a stable and healthy trading environment. Our Dukascopy review is here to help you discover some of the most favorable trading conditions the market has to offer.
Dukascopy Pros and Cons
Being fully regulated with appropriate trading certificates certainly places Dukascopy among the most supervised and transparent brokers today. A confirmation of their honest and honorable business is the content their countless customers express in their reviews.
Account types cover all the needs a particular group of traders has. Beginners, advanced and professional investors will find their trading preferences fulfilled by the features every account type offer. Every account opens access to a wide range of trading instruments. In fact, Dukascopy allows you to invest in thousands of different financial products. 
Some of the less beneficial features Dukascopy manifests are the varying deposit requirements. You won't have to worry about this if you're an EU resident. In that case, the starting sum you have to pay to open a live trading account is $100. Foreign customers have it a bit more difficult than that, as the deposit requirement can get up to $1.000.
Like depositing, leverage features also display a possible variation depending on the user's location and regulatory rules. In some areas with loose licensing standards, leverage can be as high as 1:1000. 
Although Dukascopy falls under the low fees category, an inactivity fee applies to accounts dormant for more than 360 days and it's 100 CHF.
| | |
| --- | --- |
| Headquarters | Switzerland |
| Regulation | FINMA, FCMC, JFSA, DFSA |
| Platforms | MetaTrader 4, JForex |
| Instruments | Binary options on Forex, Stocks and Crypto. Forex, Metals, CFDs on Stocks, CFDs on Indices, CFDs on Commodities. |
| Demo Account | Available for a trial period of 14 days |
| Minimum Deposit | $100 |
| EUR/USD Spread | From 0.1 pips |
| Base Currencies | USD, CHF, EUR, GBP, AUD, CAD, CZK, DKK, HKD, HUF, ILS, JPY, MXN, NOK, NZD, PLN, RON, CNH, SEK, SGD, TRY, XAU and ZAR |
| Education | Videos, articles, and Webinars |
| Customer Support | 24/7 |
Is Dukascopy Safe or Scam? License and Regulation
Dukascopy is in possession of several licenses:
Swiss FINMA
FCMC (Latvia)
JFSA (Japan)
DFSA (Dubai)
Evidently, the most prestigious one of them is the FINMA regulation, issued by one of the tier 1 regulators in the area. The Swiss regulator isn't considered a top financial authority without a reason. Their standards are very strict and on par with the rules, some other regulators impose, like FCA, CFTC and NFA and ASIC.
What does it take for a broker to be considered good enough for a FINMA certificate? First off, they have to own at least €730.000 as a starting capital. A company that can't provide that can't be considered as a serious investor.
Segregated bank accounts for customers' deposits, along with limited leverage and negative balance protection, serves as means of protecting customers, their funds and preventing unexpected loss.
Although Dukascopy offers different leverage to the zones with different regulatory standards, everything is done within the regulatory framework and limits.
Since other regulators have judged Dukascopy as a reliable and honest company with necessary safety measures and obligatory transparency, they have issued licenses to them.
Perhaps not as demanding as FINMA, other regulatory bodies Dukascopy has certificates from are still supervising Dukascopy in the respective areas and making sure the broker is following the regulatory instructions.
As a result, we can consider Dukascopy to be reliable and very trustworthy for any kind of investment you may be planning.
Account Types Available at Dukascopy
Without overcomplicating things, Dukascopy has two general account types, fully equipped with features necessary for beginner traders and professionals alike:
Forex/CFD ECN account for JForex platform users (individual, joint and corporate)
Forex MT4 account (individual, joint, and corporate)
Demo account
Islamic account
Depending on the platform, you may have access to more tradable assets on JForex, and a slightly smaller range of instruments available on an MT4 account.
Either way, depositing in USD, CHF, EUR, GBP, AUD, CAD, CNH, CZK, DKK, HKD, HUF, ILS, JPY, NOK, PLN, RON, SEK, SGD via bank wire transfer and credit cards is available for all account types. EU clients have a choice between any trading type (including news trading, scalping etc). The minimal acceptable order size is 1'000 units of the primary currency.
Trading Platform Overview
In the continuous striving to meet every clients' needs and in line with the investors' expectations, Dukascopy takes trading to another level with two prestigious trading software, both available for mobile, desktop and web trading:
Even if you were a beginner trader, you must have heard of MT4 by now. Revolutionizing changes in Forex trading started about 15 years ago when MetaQuotes launched MT4. The premium trading experience is unimaginable without MT4. All the advanced features, next-gen customization, in-depth market research tools, economic calendar and other various options help traders build a successful strategy and stay competent on every market.
For advanced traders and long-term investors, JForex is a platform that follows their sophisticated taste and trading preferences. Multifunctional and highly comprehensive, JForex is another premium platform recommended for both manual or automated trading. This Forex and CFD trading terminal has around 270 indicators to help you maximally adjust your interface and trading layout.
Dukascopy Trading Instruments
A rich range of trading instruments available at Dukascopy is shown through several categories of tradable financial products. With leverage varying from 1:30 up to 1:1000, in accordance to regulatory standards and spreads starting from 0.2 pips on EUR/USD, clients can choose between:
Binary Options on Forex, Stocks and Crypto
CFDs on Commodities (Cotton, Coffee, SoyBean, Sugar, Wheat, Corn)
CFDs on Stocks (Apple, Facebook, Tesla, BMW, Adidas, Nvidia, Boeing)
CFDs on Indices (Dow Jones, S&P500, Nikkei225, CAC40)
Forex (EUR/USD, USD/CAD, EUR/CHF, EUR/GBP, USD/JPY, JPY/PLN)
Metals (Silver, Gold, Copper, Palladium, Platinum)
Dukascopy Offers Bonuses and Promotions
European clients may be less interested in this part of Dukascopy offers, considering the fact that the regulatory criteria in this area prevents brokers from offering bonuses.
However, international clients can take a look and determine if they're eligible for the following bonus:
Bonus amount of 10% of the client's current equity of the account at the moment when the client applies for a Bonus. Clients can apply for a Bonus during 30 days since they made a credit on their account and there should be no outgoing transfers (Withdrawals) after the Deposit.
Bear in mind the Bonus limitation that refers to meeting the trading volume requirement and possible cancellation of the bonus if the client doesn't meet the Bonus criteria at some point.
Deposits and Withdrawals
Opening your trading account with Dukascopy is possible in over 20 currencies, including Gold. Depositing methods are many and clients can choose between several transfer channels.
All transactions performed at Dukascopy are ultimately secure and fast. Most transfers are instant and withdrawals don't take more than 2 business days to complete.
From bank wire transfer and credit cards as the most safe and preferred ways to fund your trading account, you can also choose between various electronic wallets and crypto as well.
We'd like to give props to Dukascopy for diligently covering all commissions and deposit/withdrawal costs. That means that funding your live trading account at Dukascopy is fee-free.
The same goes for withdrawals, as Dukascopy doesn't charge the processing. The only possible fees that clients have to pay are the conversion fees, coming from the client's bank.
Education and Resources
Impressive as they are, educational programs at Dukascopy cover a wide range of subjects that may interest traders of different knowledge levels. The broker has made sure traders can choose what skills they want to improve, including the way they want information presented to them.
That's why Dukascopy has detailed articles, but also video tutorials and live lessons available for all clients with live trading accounts.
Since knowledge of Forex doesn't come overnight and cannot be summarized through several articles, Dukascopy has designed learning courses for traders of each experience level. Starting from the very basics and account opening, first-time investors can find detailed and picturesque explanations on how to download and install the trading platforms. After that, traders have the option to listen to video tutorials and learn the platform's features and instruments. 
More advanced traders can listen to live lectures and participate in webinars. These are held by Dukascopy experts. Market changes are constantly analyzed and where traders get the most useful advice to help them make their next investment decision. 
Customer Service Overview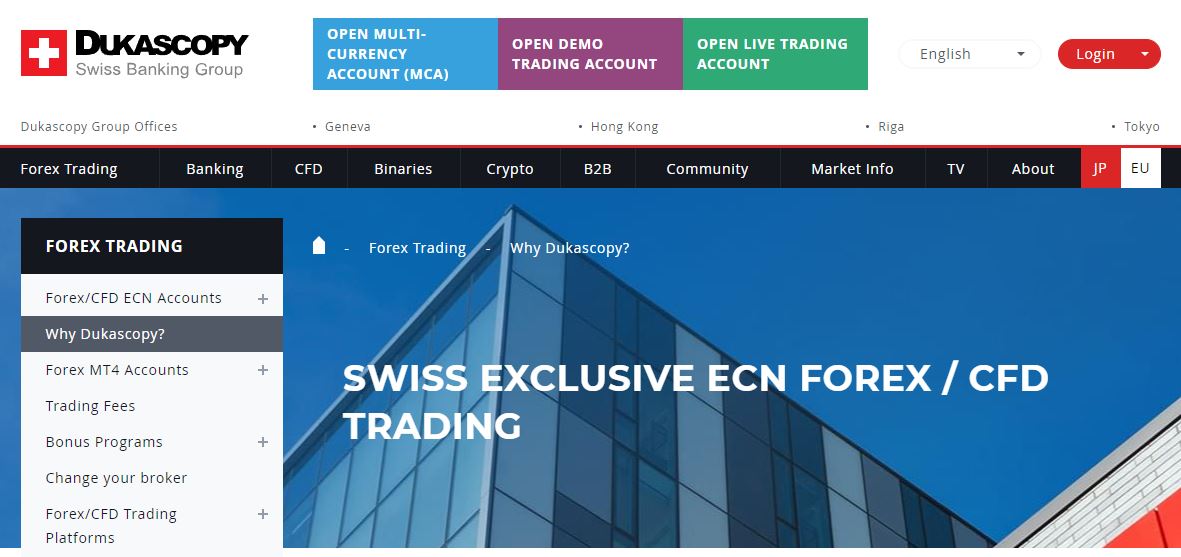 To be of use to customers at all times, Dukascopy has installed several channels of communication. Not only can the clients reach customer support 24/7, but they can do so in different ways they prefer. Whether that's a written request, a direct chat or a phone call, Dukascopy tends to their customers. 
To make sure the clients get the help and support they need, Dukascopy enables phone numbers and physical addresses to every office in various countries. Highly responsive and helpful, staff offers constant access to consultations related to technical problems, account opening issues or other situations that users may face.
Dukascopy Overall Summary
Today's Dukascopy review has brought you a story of a great banking and brokerage service. The company is known as firm, long-lasting, and stable, with magnificent service, customer help programs and top-notch trading platforms.
Different account types allow access to some of the most exotic trading instruments on all the most popular world markets. Dukascopy staff is there to support you along your trading journey and the educational resources are another way of improving your trading skills. 
Multiple regulations and countless online reviews by customers are a reminder and evidence of Dukascopy being an exceptional partner. If you are looking for a reliable source of trading knowledge and chances, feel free to try out this website.
FAQs About Dukascopy Broker
How Long for my Dukascopy Account to be Approved?

Opening an account with Dukascopy takes a quick verification process but all in all, it doesn't take more than 15 minutes.
Who Is the Dukascopy Regulated by?

The regulatory bodies that have issued licenses to Dukascopy are FINMA, FCMC, JFSA, and DFSA.
Is there a Minimum Deposit at the Dukascopy?

The minimum amount of money you have to deposit if you intend to trade at Dukascopy is $100.
Is there a Minimum Amount I can withdraw at the Dukascopy?

There's no lower limit to withdrawals, so clients decide whatever amount they want to withdraw from their trading account. 
Does the Dukascopy Have a Demo Account?

Yes, Dukascopy allows a trading simulating account for a period of 14 days.